Estrogen Therapy Before and After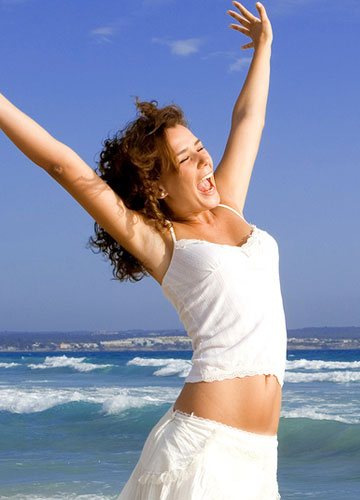 There is quite a bit to discuss about receiving estrogen therapy before and after menopause, as well as before and after surgical removal of the uterus and ovaries. A woman's ovaries produce the majority of the estrogen, progesterone, and testosterone in her body. Although the adrenals offer a small amount of progesterone and testosterone, it is not enough to supplement what will be missing once the ovaries stop producing due to menopause, or after their removal. Estrogen is also produced by fatty tissue in the body.
Before menopause, a woman will typically have an abundance of the hormones that her body needs for ideal functions. There are times when either the ovaries or the pituitary gland (in the case of growth hormone) decrease the production of one or more of these chemical messengers. If this is the situation, symptoms associated with the decline will occur. This will illustrate the differences of how her body reacts before and after treatment with the corresponding hormone replacement therapy.
During and after menopause, whether naturally occurring or surgically induced, estrogen before and after impacts on the body can be quite dramatic. Many women forget how they felt before menopause by the time the symptoms have gotten to the point where they have a disruptive impact on their life.
Symptoms Before Receiving Estrogen Therapy
Women in the midst of menopause, including those who have had a hysterectomy and oophorectomy may find that multiple changes begin to occur in their bodies. There are certainly those lucky females who never experience any adverse changes at all, but, unfortunately for everyone else, this is not the case. There are often numerous symptoms present that can drive a woman to ask for help with the adverse effects of menopause.
The following symptoms that lead up to estrogen therapy, before and after menopause, can have a negative impact on a woman's life:
Weight gain
Fatigue
Hot flashes
Mood swings
Night sweats
Insomnia
Anxiety
Depression
Bone loss
Muscle decline
Mental fog
Memory loss
Poor concentration
Vaginal dryness
Vaginal infections, candida
Low libido
Painful or unpleasant intercourse
Urinary issues, including infections and incontinence
Headaches
Irregular periods
Rapid heartbeat
These symptoms can have an undesirable impact on a woman's life, affecting her job performance, relationship with her spouse, and even prevent quality time with her children or other loved ones. Some women who experience severe symptoms often remove themselves from social activities. The biggest concern for hormone replacement doctors is that estrogen decline can lead to other serious health issues, including heart attacks, osteoporosis, and possibly breast and endometrial cancers.
Benefits After Receiving Estrogen Therapy
Thankfully, women can count on receiving wonderful benefits from estrogen therapy. Most females will see a significant reversal in all of the symptoms mentioned previously. Bone strengthening can help to prevent osteoporosis. This is important since hip fractures are one of the biggest reasons for loss of mobility in later years.
Other benefits of estrogen treatment before and after menopause can help to improve brain functions to ward off dementia. Improved mood can end depression and restore a positive outlook for the future.
Hormone replacement doctors also recommend progesterone therapy for many menopausal women. Determining the proper treatment means having a blood test to check these vital hormone levels to ensure that the right type of HRT is prescribed. Adding natural progesterone (not synthetic progestin) to the treatment protocol will also help firm muscles, strengthen bones, restore libido, reduce the risk of developing diabetes, and even decrease the possibility of colon cancer.
In fact, many women state that they not only feel years younger and better thanks to starting estrogen and progesterone hormone therapy, they also look years younger. That is why taking estrogen before and after pictures is important. When you can see the physical changes that have occurred, both in your body and your relaxed face, you will know that you made the right choice.
To get further information about all types of hormone replacement therapy for women, as well as for the men in your life, please contact Kingsberg Medical for a free and confidential consultation.
Brian Leeber