Humatrope Side Effects: What You Need to Know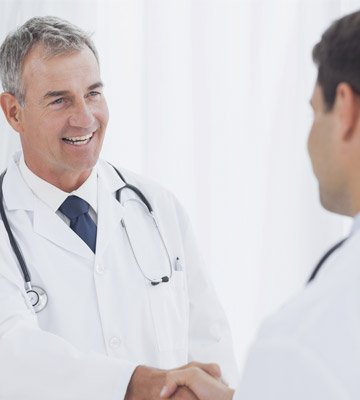 Humatrope HGH injections are considered extremely safe when prescribed by a hormone replacement therapy (HRT) specialist for the treatment of adult growth hormone deficiency (AGHD), but that does not mean they are without the potential for side effects.
Kingsberg Medical provides information about common, less likely, serious, and long-term potential Humatrope side effects to help you understand the use of this medication.
Before starting HGH therapy, please discuss any medical conditions (current and prior), medications, over-the-counter preparations, and supplements and vitamins used with the HRT specialist.
Do not use Humatrope if any of the following situations apply:
Active cancer
Serious complications from open heart or abdominal surgery
Life-threatening breathing problems
Serious injuries involving many body systems
Prader-Willi syndrome
Allergy to any ingredients in Humatrope HGH
You can avoid any long term side effects of Humatrope by contacting your doctor at once if you notice any of the changes listed on this page.
Most Common Humatrope Side Effects
Minor side effects from a medication such as Humatrope are often merely annoying and not dangerous or life-threatening. While the majority of people never notice any adverse effects at all from HGH therapy, the possibility of Humatrope injection side effects does exist. In most cases, the body is getting used to the increase in growth hormone levels and will adjust itself over a few weeks of treatment, and the side effects will go away on their own.
In some instances, the doctor may recommend lowering the dosage until the adverse symptoms subside, and then slowly increasing back to the prescribed amount. Do not do this on your own – the prescribing hormone specialist must supervise this process.
Injection site redness, itching, or other reactions are possible in the early stages of treatment. These reactions typically subside with practice administering the shots.
The most common Lilly Humatrope side effects that could occur include:
| | | |
| --- | --- | --- |
| Body pain or aches | Bowel changes | Breast tenderness or pain |
| Changes in vaginal discharge | Congestion | Excess gas |
| Increased sweating | Nail discoloration | Rash |
| Sneezing | Stuffy nose | Swollen or tender neck glands |
| Throat soreness or dryness | Trouble swallowing | Vocal changes |
The above Humatrope side effects rarely occur. The ones below have an even lower incidence of development:
| | | |
| --- | --- | --- |
| Appetite changes | Depression | Discouragement |
| Irritability | Loss of interest | Mood changes |
| Sadness | Sleeplessness | Trouble focusing |
Least Common Humatrope Side Effects
These next lists of Humatrope growth hormone side effects focus on the more serious aspect of adverse reactions. These occurrences are extremely rare and should be reported to the prescribing doctor as soon as possible.
The first chart below features the more common of these side effects of Humatrope injection that may signal a warning of a potentially dangerous reaction:
| | | |
| --- | --- | --- |
| Abnormal changes in touch sensation | Anal bleeding, stool changes, or swelling | Bloating in the arms, face, feet, hands, or lower legs |
| Blood or discoloration in the urine | Cold or flu-like symptoms, runny nose, cough, sore throat | Cold feet or hands |
| Confusion | Constipation | Diarrhea |
| Dizziness | Dry, sore, or white patches in mouth, tongue, or throat | Fainting |
| Fast, irregular, or shallow breathing | Fever, chills, or shivering | Gastric or abdominal bloating or swelling |
| Headache | Heartbeat changes | Itching |
| Joint aches, pains, stiffness, or swelling | Lightheadedness | Loss of appetite |
| Muscle aches or cramps | Muscle pain or stiffness | Nausea or vomiting |
| Pain in abdomen or side | Pain radiating to back | Pain, redness, or swelling in arm or leg |
| Pressure in abdomen | Rapid weight gain | Skin: color change, hives, itching, numbness, "pins and needles," rash, tingling |
| Thirst | Tightness in chest | Trouble sleeping |
| Unpleasant breath | Unusual fatigue or weakness | Unusual weight gain |
| Vomiting blood | Wrinkled skin | Yellowing of eyes or skin |
The list below shows the less common and potentially warning Humatrope side effects:
| | | |
| --- | --- | --- |
| Bone, joint, or skeletal pain, or swelling of the ankles | Burning, numbness, pain, or tingling in all but the smallest finger | Chest pains |
| Depression or severe mood changes | Dryness of hair and skin | Feeling cold |
| Hair loss | Hoarse or husky voice | Slow heartbeat |
Get immediate help if you notice any of these severe symptoms often associated with overdose:
| | | |
| --- | --- | --- |
| Cold sweats | Coma or seizures | Extreme changes in mood: anxiety, depression |
| Excessive sweating | Extreme weakness, fatigue | Fruit-like breath odor |
| Increased hands and feet size | Increased hunger or thirst | Nightmares |
| Noisy, rattling breathing | Severe pain in arms or legs | Shaking |
| Shortness of breath | Slurred or difficult speech | Skin: cool, pale, flushed, dry |
| Stop of menstrual cycle | Swelling of fingers or hands | Trouble breathing in rest state |
| Urinary: decreased or increased volume, pale or diluted | Vision: blurry or other changes | |
How to Avoid Humatrope Side Effects
It is important to report any abnormal changes or side effects of Humatrope growth hormone to your medical professional. That is the best way to avoid potential problems. The HRT specialist can then address the situation and make any necessary changes.
Also: follow all instructions for using Humatrope as prescribed.
Do not let the lists above frighten you away from treating adult growth hormone deficiency. This condition, if left untreated, can lead to serious health issues.
The biggest concerns about unreported Humatrope long-term side effects are:
Acromegaly
Carpal tunnel syndrome
Diabetes
Edema
High cholesterol
Hypoglycemia
Joint pains
These are all reversible by the doctor lowering the dose of medication, and often go away on their own as the body adjusts to treatment.
Please contact Kingsberg Medical with any questions.
Brian Leeber